TRICK GEOGRAPHY Overview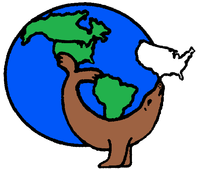 ​
​ "I can't believe how much I just learned!"
That was one mom's response after ​observing a single class session of
Trick
Geography
.​​​

Trick
Geography
routinely moves students from geographic illiteracy to command of:
world countries, US states, Canadian provinces and territories
their locations, shapes, and capitals
major bodies of water, rivers, mountains, peninsulas, deserts, and plains​
Delightful graphics, phonetic connectors, dot-to-dots, and fill-in-the-blanks incorporate multiple teaching strategies. The process is more like a game than a curriculum.

​Trick Geography is easy enough for elementary students, yet sophisticated enough for high schoolers and adults. Grandparents can enjoy learning a subject they never really mastered alongside their grandchildren. ​

Students and their teachers become more connected to national and world news because they have developed a firm grasp of geographical names and places. And, the format of teaching opens students' eyes to new ways of learning new material.
Teachers appreciate the simple instructions which require virtually no prep time or learning curve and which give students the option of going through the program on their own. Plus, each continent is presented as a stand alone unit and can be taught in any order.
​
Evaluation is a cinch with matching tests which are included.
Recommended ages 8 to adult.
​
---